Learn how to create music visualization videos from your own music
1. Upload
Upload the .mp3, m4a, or .wav file of your song, music or album.
2. Choose Music Visualizer
Select the music visualizer animation and click 'create.'
3. Download
Download the newly created music visualization video to your device.
Turn a simple audio track into an engaging music visualization video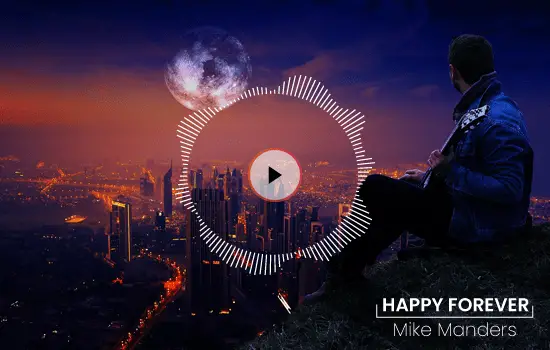 Uploading songs, music or audio tracks which is only in an audio format on social media is hard because most social media platforms don't natively support .m4a, .mp3, and .wav formats.
If you are a musician, VJ, DJ, music producer, music maker, artist or any other music creator, you can easily repurpose your .mp3, m4a and .wav audio tracks, songs and albums into engaging music visualization videos to share, promote, popularize and gain new audience for your works on Facebook, Youtube, Instagram, Twitter and other social platforms that don't support audio-only content.
Create captivating music waveform animation that gets beautifully synchronized to your music / songs / tracks to give your listeners something interesting to look at when enjoying your music on social media platforms.
Instantly create a music visualizer video from your music / songs / albums with perfect aspect ratios for every social platform
| Video type | Aspect ratio | Social platform |
| --- | --- | --- |
| Landscape/Horizontal videos | 16:9 | Youtube, Facebook, Twitter, Website |
| Square videos | 1:1 | Facebook, Instagram, Twitter |
| Vertical/Portrait videos | 9:16 | IGTV, Snapchat |
| Letterbox (Meme style videos) | | |
| Captioned videos | | |
Customize visualizer, effects & music cover design with ready to use/remix music video templates