Announcement
Monthly Update - August 2019: 3000+ Total Templates
Hi,
Yes, our total collection of templates has now gone past 3000 templates in only 65 days. At this rate, you can expect a total of 5000+ templates within 100 days of WoFox Beta Launch.
Cheers,
The WoFox Team
Announcement
Brace yourself! 4 Tools are now live
Hi,
We are very excited to share with you the release of the following WoFox Tools.
Our newly released video templates are categorized as Red templates, and they are Ready-to-Edit and Download. A much-needed tool for those who create videos on the fly.
Red templates are simple to use: choose a template, customize its contents and download. It is to be noted that the videos created using Red templates are processed and rendered in the server first only then you can view your video.
However, there are more to come in video templates. Soon, other types of video templates such as Green templates and Blue templates will be released.
23 out of 26 video editing tools are now ready to use for your specified video editing needs such as cut, trim, merge, split, add text, sound effects, optimize and many more.
3. Online Background Remover: Photo Cut Out Tool
Make any image a transparent PNG image by removing the background from the foreground. You can cut a product, object, white color, text, and people out of a photo using the BG removal tool. Background Remover is available both as a standalone tool in the WoFoxTools platform and inside the WoFox editors across other platforms.
13 tools to create and edit social media and Website UI mockups, more tools to come. You can easily generate the perfect mock-up social media posts, chats and texts, and web interface that doesn't exist.
Cheers,
WoFox Team
Announcement
1000+ Graphic Design Templates And Still Growing
Hi
We are happy to announce that WoFox has reached 1000+ graphic design templates covering all the categories. But, this is not the end as the number will only be increasing and at a very fast pace.
We have reached 1000 Graphic design templates in 35 days after the launch of WoFox Beta. Since there is no limit for creativity and inspiration, WoFox's templates are always ever-growing.
Apart from graphic design templates, we are also creating Photo Collage, Photo Mockup, and GIF Templates, which will also be increased every day.
Currently, the number of templates available in each module that are open are:

Graphic Design - 1000+
Photo Collage - 120+
Photo Mockup - 40+
GIF - 75+
And the count is still growing. Our announcement for the 5000+ templates will be sooner than before.
Cheers,
The WoFox Team
Announcement
WoFox Video Creation Modules
Hi,
Happy Thursday!
Ever since the start of WoFox Private Beta testing, we have been receiving sincere and effective feedback from you all and each of them has helped us not only to shape WoFox into great content creation tool for designers and non-designers alike but also to give you an experience you'd never forget as you craft your visual stories on WoFox.
We are happy to introduce WoFox's much-awaited video creation modules which will be released by next week, once they are out, you can start creating videos, repurpose your existing digital media content to a completely new format and reach new audiences and increase your followers. Currently, we are testing our payment process and our payment gateways. Once this is successful, we'll have them enabled along with our video creation modules.
Thanks for supporting us all through this amazing journey with your honest feedback, which helped us make WoFox better than before. Do continue to create amazing content on WoFox and don't stop to share with me your experience. We will notify you when the video creation modules are released.
Thanks for your continuous support!
Cheers,
The WoFox Team
Announcement
WoFox Beta Pricing Structure to Be Launched Soon
Hi all, it's me Flynn.
Hope you are all enjoying using WoFox Beta. I'm glad to announce that soon WoFox's Pricing Structure and Payment Gateway will be released for the public.
It is good news for the early adopters as we are going to start with a discounted price for WoFox Beta. Once subscribed to WoFox Beta, the user shall renew their subscription with the discounted price for their lifetime even after the complete release.
Cheers,
Flynn from the WoFox Team
Announcement
WoFox Closed Beta is Now Open
Hi all, it's me Flynn.

I'm so happy to announce that WoFox Closed Beta is now open to all. No more requesting and No more waiting for an invite. You can create your own account in less than a minute and start creating awesome content.
Cheers,
Flynn from the WoFox Team
Release
WoFox Private Beta Phase 1 Release
Hi all, it's me Flynn.
The first phase of WoFox Private Beta Launch is here now, and I'm happy and excited to announce the tools we have just rolled out to our private beta users. The first phase of Private Beta Release comprises of 6 awesome back-end editors along with a Task, Team, and Asset management modules.
Experience the new and improved:
Graphic design editor
Photo collage editor
Photo mockup editor
Photo editor
Panorama editor
Animated GIF editor
And the above editors are powered with the following modules:
WoFoxTasks
WoFoxTeam
WoFoxAsset
Do you want to know what's new with them? Experience it yourself.
If you have registered for WoFox Private Beta, look for an invite in your email inbox. Click on the special invite link to access the new and improved WoFox platform. Access the editors and modules released in the first phase of releases. Thank you for waiting patiently.
Cheers,
Flynn from the WoFox Team
Announcement
The Much Awaited Beta Testing Starts From Next Week
Hi all, it's me Flynn.
I'm happy to announce that we will be rolling out our beta testing for our 18+ content creation tools as we promised but yes it comes after a long delay.
The beta testing will be done in three phases, and the first phase of testing starts next week.
I want to assure you that the WoFox platform you are going to be exposed to during the three phases is in no way a minimum viable product (MVP), but a feature-rich complete package.
How different is WoFox's beta testing from others?
Most of the beta products launch as a minimum viable product (MVP) and then gets developed into a complete product after the beta testing phase.
But in case of WoFox, you get to use a fully featured complete package during the beta testing phases , which you'll witness for yours for yourself as you use our WoFox platform. I assure you it is worth the wait!
I'm keeping the rest unrevealed to you so that you'll be thrilled to uncover them when you decide to join our VIP early adopter program.
If you have already registered with us in our previous beta testing program, you'll receive an invite to your email for the first premier access to the WoFox platform.
If you aren't registered already, it's time to take your turn now from here to request an invite.
I will be guiding you through all the phases and I'm sure we are going to get along very well.
Cheers,
WoFox Team
Announcement
WoFox is Back With New Look
Meet the new and improved WoFox! After days of planning and designing, we have successfully completed giving your favorite content creation platform a new and clean look.
We assure you that you will love the fresh look as we've tailor made it keeping your needs, wants and comfort in mind. Soon we will be up with our beta testing invites.
We would also like to introduce you to "Flynn the Fox", WoFox's very own mascot and your new guide. Flynn is clever and loves to create new content. Our creative fox Flynn will always have your back as you navigate through WoFox!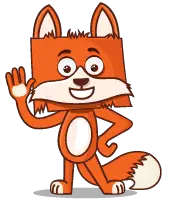 Cheers,
WoFox Team