Announcement
WoFox Beta Pricing Structure to Be Launched Soon
Hi all, it's me Flynn.
Hope you are all enjoying using WoFox Beta. I'm glad to announce that soon WoFox's Pricing Structure and Payment Gateway will be released for the public.
It is good news for the early adopters as we are going to start with a discounted price for WoFox Beta. Once subscribed to WoFox Beta, the user shall renew their subscription with the discounted price for their lifetime even after the complete release.
Cheers,
Flynn from the WoFox Team
Announcement
WoFox Closed Beta is Now Open
Hi all, it's me Flynn.

I'm so happy to announce that WoFox Closed Beta is now open to all. No more requesting and No more waiting for an invite. You can create your own account in less than a minute and start creating awesome content.
Cheers,
Flynn from the WoFox Team
Announcement
The Much Awaited Beta Testing Starts From Next Week
Hi all, it's me Flynn.
I'm happy to announce that we will be rolling out our beta testing for our 18+ content creation tools as we promised but yes it comes after a long delay.
The beta testing will be done in three phases, and the first phase of testing starts next week.
I want to assure you that the WoFox platform you are going to be exposed to during the three phases is in no way a minimum viable product (MVP), but a feature-rich complete package.
How different is WoFox's beta testing from others?
Most of the beta products launch as a minimum viable product (MVP) and then gets developed into a complete product after the beta testing phase.
But in case of WoFox, you get to use a fully featured complete package during the beta testing phases , which you'll witness for yours for yourself as you use our WoFox platform. I assure you it is worth the wait!
I'm keeping the rest unrevealed to you so that you'll be thrilled to uncover them when you decide to join our VIP early adopter program.
If you have already registered with us in our previous beta testing program, you'll receive an invite to your email for the first premier access to the WoFox platform.
If you aren't registered already, it's time to take your turn now from here to request an invite.
I will be guiding you through all the phases and I'm sure we are going to get along very well.
Cheers,
WoFox Team
Announcement
WoFox is Back With New Look
Meet the new and improved WoFox! After days of planning and designing, we have successfully completed giving your favorite content creation platform a new and clean look.
We assure you that you will love the fresh look as we've tailor made it keeping your needs, wants and comfort in mind. Soon we will be up with our beta testing invites.
We would also like to introduce you to "Flynn the Fox", WoFox's very own mascot and your new guide. Flynn is clever and loves to create new content. Our creative fox Flynn will always have your back as you navigate through WoFox!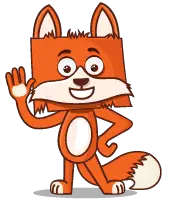 Cheers,
WoFox Team
Announcement
Revamping WoFox Website Design
We have completed re-structuring our back-end editors and their rendering architecture. Soon, we will begin our test-cases, but before that, we have one other thing to do. We have started to re-design the front-end of our website and re-strategize our platform content to match with our new and upgraded functions.
Soon you'll be able to see the WoFox platform with a new and modern outlook, and with an improved designing experience.
Cheers,
WoFox Team
Announcement
February Recap and Plan for March 2019
February has been a month of re-structuring all our front-end and back-end editors and their rendering architecture so that we could give our users the best experience possible.
We have almost completed the restructuring process, and now we are upgrading the framework and library to the latest version thus resulting in more bug fixes, and soon we will be rolling out the service to our Private Beta users.
Thank you for patiently waiting, we will soon update the good news.
Cheers,
WoFox Team
Announcement
An Update on the Status of WoFox Platform
We are currently on the verge of completing the restructuring of all our front-end and back-end design editors and their rendering architecture.
Soon we will complete all our planned changes and have all our design editors rolled out to our private beta users. Hopefully, February could be the month of the renewed WoFox Closed Beta.
So, get ready to experience a new and improved version of all your favorite content creation editors and also there are a few surprises awaiting you, as you will be thrilled to find out the new video modules and design editors we have added to the WoFox platform to make your new content creation and repurposing your old content even more awesome on WoFox.
Cheers,
WoFox Team
Announcement
Welcome 2019
WoFox wishes a happy New Year to all our users. Let us all welcome the new year with new spirit and renewed hopes to have a promising and a fulfilling New Year!
Cheers,
WoFox Team
Announcement
Planned Roll Back on Back-end Editors
We are rolling back our back-end editors at the moment as we are urgently working on serious issues.
We have been receiving feedbacks and suggestions from our Beta users regarding the problems they had faced while using our editors.
We highly value their opinions and based on that, we are currently re-structuring all our back-end editors.
So, for the next two weeks, only the front-end part of the website will function efficiently. All the back-end editors - Graphic Design, Photo Collage, Mockup, Photo Editor, RED Video and WFX - will be offline until further notice.
We're really sorry to be holding you up, but we want to provide you with the best experience you can ever have. Will update the status soon.
Cheers,
WoFox Team