Video Editor Packed With Useful Built-in Tools
Built-in Fonts Library
Choose from 1,000+ Google Fonts pre-loaded within the video editor or upload your own custom fonts.
Built-in Music Library
Add 100+ audio music tracks (perfect for any genre) as background music to your video or upload your own.
Built-in Media Library
Choose from 1M+ creative commons and commercially licensed royalty-free high-quality videos, photos, icons, and animations right in the video editor.
Built-in Asset Library
Save time on video creation with your own asset library to store your assets – images, videos, logos, fonts, and other digital brand assets, in the cloud to access anytime and anywhere.
Customize Everything
Personalize every video with your own intro and outro, text, brand color, watermark, typeface, company logo, and a call-to-action and have complete control over your video edits/creations.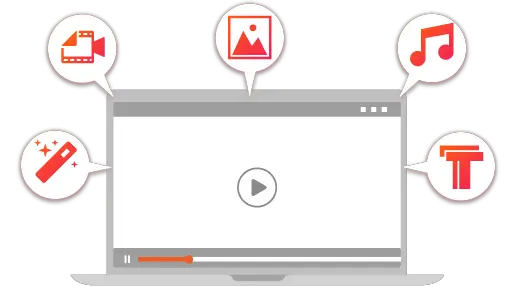 Built-In Audio/Voice Recording
No more having to use other audio/voice recording software. WoFox video editor's built-in recording feature lets you record and edit your audio/voice directly in the timeline of your video editing project.
Built-In Text-to-Speech (TTS)
Chose one of our high-quality human-like voice-overs with voice controls to create your own voice over for your video clips. No need to spend extra for voice over artists.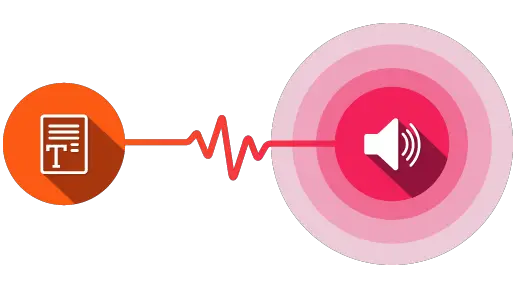 Built-In Speech-to-Text
Have your audio/speech transcribed to readable captions/subtitles with AI so you don't have to spend more time to prepare the .srt or other text file that needs to be inserted in the video.
Timeline Editor
The timeline available in the video editor makes it super simple to create and edit video in minutes as you can easily arrange, trim, join clips and do more using a timeline.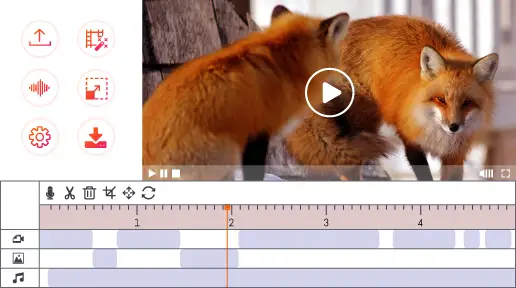 Download
Export your videos in different sizes and formats in high-definition to reach your audience anywhere.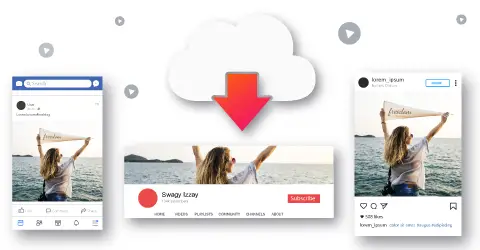 Instant Preview
You can instantly preview your changes as soon as you edit/design your video. No more waiting to export or render video to view the changes.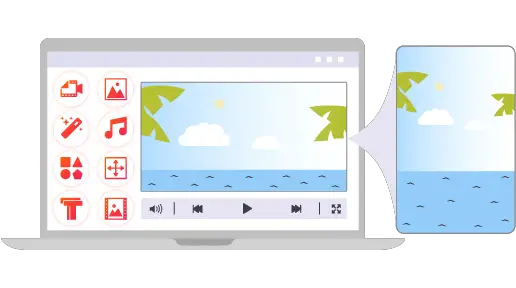 Resize Video
The perfect aspect ratios of your video dimensions for the web, social media, stories, and ads are available as clickable presets or Resize to square 1:1, landscape 19:6, and vertical 6:19.
Co-Creating Videos
Instantly collaborate on your on-going video editing projects with any of your teammate from anywhere with Cloud Sync. You can share the projects with anyone to comment or edit them with powerful collaboration tools.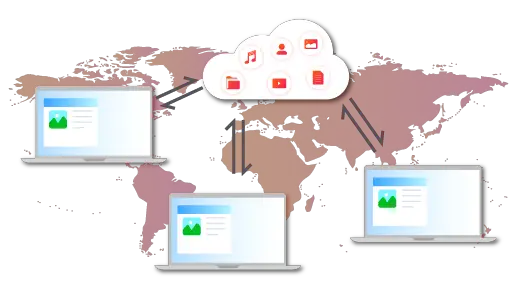 Built-In Stickers Library
Add 1000+ static and animated stickers (perfect for any genre) and emojis on top of your video or upload your own.
Built-In Video Editing Tools
Cut, trim, crop, split and combine, filters and adjust colors, rotate/flip, add audio and images and other essential video editing tools to edit your videos within the video editor.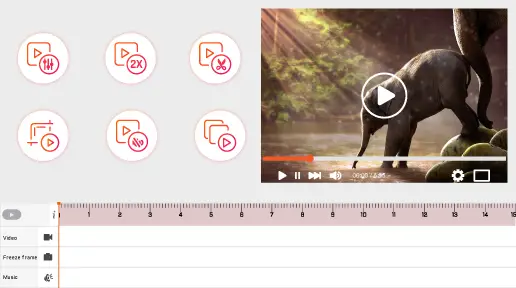 Built-In Typography
Add unique titles and lower thirds, 80+ animated text presets (you can change the texts, colors and time duration) and 700+ fancy and swash text available right in the video editor. Express your text in creative ways.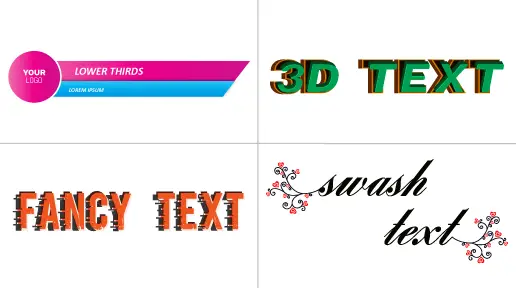 Keyboard Shortcuts
Work much easier and quicker using keyboard shortcuts to do things like undo/redo, copy, cut, paste, and more, directly from your keyboard.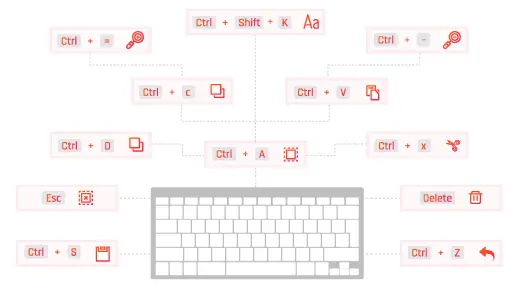 Built-In Motion Shape Elements
1000+ easy to use and fully customizable and resizable motion shape elements to give your video a beautiful and dynamic look.
Built-In Transition Library
50+ ready to use creative and seamless transitions to help you cut between the scenes, which you can apply to your clips to give the professional look for your video.